It is easy to believe Melinda Mills was a very disruptive child. She is clearly a disruptive adult...and that has proven to be a very good thing indeed. Over the last year, it has been a valuable and evident quality as the Oxford professor of sociology and demography has provided sometimes controversial, often difficult to hear, but always research-based advice to government, business and the public on everything from face coverings and social bubbles to vaccine passports. This has not always won her friends, but it has helped inform and influence policy.
Putting social and behavioural sciences firmly at the table, Professor Mills knew her team (at the newly-established Oxford's Leverhulme Centre for Demographic Science and from her European Research Council Advanced Grant) had a real role to play in fighting the pandemic.
She explains it is important when looking at the impact of the pandemic not to forget 'behaviours, social environment and population composition'; the sort of bread and butter work of social scientists, looking at who is in the population, what will or will not work with each group, what has been tried before and what people will think and how they will react.
'It became quite clear we could make a contribution and we wanted to help,' she says. 'By being systematic, using different data and thinking and drawing from multiple scientific disciplines.'
As early as last March, the team set aside 'regular' work and turned attention to the pandemic. 'With its interdisciplinary team, the Leverhulme Centre was 'uniquely positioned', she says, to provide the demographic data and research-based advice on the real world decisions and impacts of the pandemic and the policies being introduced to contain it.
As the world looked in fear at events in Italy, before the pandemic even reached the UK, the demographers had seen it coming, realising Italy's ageing population would suffer greatly in the face of the coronavirus. The team were one of the first to clarify the value of demographic science in understanding the pandemic, in April 2020, with a widely cited article.
The next action they took was to set up an online 'dashboard', looking at the likely impact of the pandemic and potential hospital shortages in the UK. Using demographic data, such as age and ethnicity profile, Professor Mills' team was able to predict which NHS trusts would be overwhelmed. One answer came back quickly: Harrow, in North West London. With its mixture of older residents and other social traits including density and ethnicity, it looked vulnerable – and so it proved.
'We were able to predict [based on the data] where hospital beds would be under pressure. Our research was very granular. And that was just with basic demographic information. It had quite a bit of impact.'
After that, Professor Mills has not ducked difficult issues – however controversial and potentially uncomfortable.
'I could have stayed on safe topics and I might have had a nice relaxing year,' she says. 'But I have never done that, [with my ERC research], and I thought we had a responsibility. I could see some opinions being voiced without evidence. We needed to provide balance and rigorous evidence-based research.'
Setting aside her plan for a once-in-a-career sabbatical, the expert in sociogenomics led her team to undertake unusually rapid research. Instead of taking months before data is published and more months trying to persuade policymakers of its value, they were sometimes asked to provide results in the space of 76 hours. And, based on this, policy changed in days.
Working on the Royal Society's COVID-19 science in emergencies group, Professor Mills has drafted major research-based reports on face coverings [the evidence was quite clear and enacted by government in days], social bubbles [fed into policy internationally], misinformation [potentially dangerous], vaccine hesitancy and deployment [not to be dismissed] and vaccine passports [ethical and technical minefield].
She also served on several sub-groups of the UK government's SAGE (Science Advisory Groups for Emergencies), focussing on behavioural insights, ethnicity and vaccines.
She says, 'We have worked in tandem with policymakers, which has been very productive...the value of our work has been heard. We have made a difference.'
But putting her head above the parapet, has not been without risks and rewards. The director of the Leverhulme Centre has become a well-known social scientist. Her input has been sought by government, at home and overseas, by businesses and organisations. But, over the last year, she has researched the murky worlds of data trade, conspiracy theorists, anti-vaxxers, and bogus medics, speaking the truth to loud and sometimes powerful interest groups. And there are some who really have not liked what the research has found.
Professor Mills may be one of the few professors of demography globally to have received death threats because of her research. Some of it has been really nasty or what one journalist noted after seeing some material as 'astonishingly abusive'.
But she was quick to note that the majority of the population acted incredibly responsibly. She says, 'There was a fear that people would not adhere to some of the pandemic measures such as lockdown or wearing face masks or resist vaccinations, but the majority were actually highly compliant.'
Here she also argues that clear communications, tailored to different groups or local communities remains vital, but also dialogue to respect and hear concerns rather than only one-way passive and information-laden communications.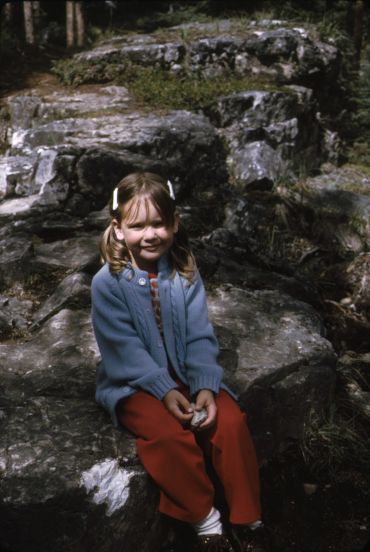 Professor Mills' capacity for disruption began early. As a farm girl growing up 'in the middle of nowhere' in Canada, she laughs as she recalls spending a lot of time in the hallway at school, [for being disruptive, attention seeking and talking].
This was no Archers' storyline of farming misery and countryside complaints, though, but a tale of a frighteningly over-achieving family - perhaps going some way to explain Professor Mills' nothing-daunted approach. Her farmer and teacher father went on to become a Canadian MP, her brother is a professor at a top US university and her sister is a leading designer.
'It's a kind of unusual family, but in a good way,' she admits. And, despite her apparently inauspicious, academic beginning in the hallway, the young Melinda went on to study demography and sociology at the University of Alberta and then to take a PhD in Demography in the Netherlands, from where she came to Oxford in 2014 as a Statutory Professor at Nuffield College and the Department of Sociology.
She is baffled by some negative personal attacks, though. One journalist accused her of being like 'Spock'.
'I'm a Trekky,' she laughs, pointing out that James T Kirk [William Shatner] is a fellow Canadian. But she says, 'I always loved Spock and the Vulcan character. I like being very rational, systematic and non-emotional when I look at the evidence. I don't see that is bad.'
The evidence provided by social sciences has proved its worth in the pandemic, as has the benefits of working across the disciplines at Oxford.
'There was thinking that evidence was only valid if it came from a randomised control trial (RCT),' she says. But it is different in social sciences, sometimes an RCT would not be an ethical or useful approach, says Professor Mills.
But, she points out, the data and research we draw from is peer-reviewed, systematic and accurate – and often based on very large representative samples, so thinking about what counts as valid evidence also needs to change.
There is still some way to go, she says, despite the relative success of the vaccine programme in the UK, there is concern over the rise of new variants. As a social scientist she recognises, 'People are fatigued now on multiple levels. We are also experiencing an 'infodemic' and it's difficult to process all the information.'
Demography is emerging from the pandemic as a powerful discipline and the Leverhulme Centre as the go-to place for research. Rather taken by surprise, Professor Mills admits, 'I didn't realise our approach was going to be so valuable....But national and international governments, organisations and businesses contact us now. And our work has energised and attracted a lot of young researchers. We hear from people around the world....A year and a half ago, there were eight people at the Leverhulme Centre, now there are around 30.'
With wide-ranging academic interests, she is most enthusiastic talking about the cross-disciplinary potential, adding, 'We have had support from organisations, including the Royal Society [which has published some of Professor Mills' reports] and the British Academy and it is exciting to be in meetings with immunologists, engineers, computer specialists, it's important for understanding social behaviour and serious problem solving.'
Not one for a 'quiet life', later this month, Professor Mills will be taking part in the Brussels Economic Forum in her role as one of eight advisors in a High-Level Group convened by European Economic Commissioner Paolo Gentiloni, the former Prime Minister of Italy. She will be speaking amongst President of the European Commission Ursula von der Leyen, German Chancellor Angela Merkel, President of the European Bank Christine Lagarde, and the Prime Minister of New Zealand, Jacinda Arden.
Full of concern about the future of employment in a post-Covid world, which is at the heart of her European Research Council Advanced Grant, she says, 'A lesson exposed by the pandemic has been the deep inequalities, accelerated shifts to the digital economy, offering us a chance to reboot our thinking and planning.'
Professor Mills speaks with considerable warmth about the flexibility and strength of her team at the Leverhulme and on her ERC project, 'They've worked really hard and we have gotten to know each other very well – even though mostly remotely. That's what you do when you bond.
'It's a diverse group, but it wasn't hired to be diverse. They were the best people for the job.'
With every intention of boldly going further, Professor Mills concludes, 'I'm very excited by the opportunities and talent at Oxford. There's so much to offer.'
Two years ago, the Leverhulme Centre was launched with a £10 million grant.