COVID-19 sent the global public back to more trusted news sources and more people than ever are paying for news from leading organisations, according to this year's Digital News Report from Oxford's Reuters Institute. But, the Institute believes, a shift to social media and mobile platforms remains the underlying trend in news consumption.
Based on research in 40 markets around the world, the Reuters' report gives a snapshot of the state of news before and during the pandemic. The Institute found that COVID-19 saw a major increase in all age groups watching TV news, as people sought reliable information. The report shows, social media and online sites also saw significant increases, although newspaper sales – adversely affected by the lockdown have declined. But trusted brands have done 'disproportionately well' online.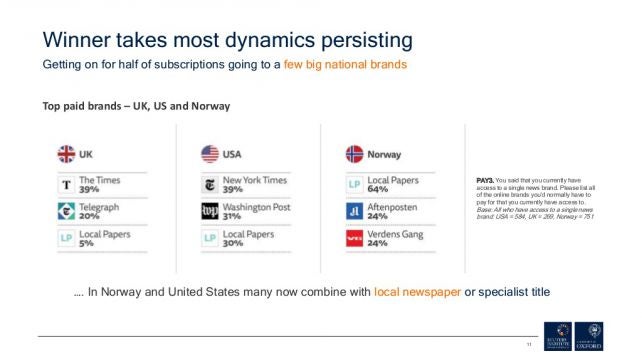 According to the Institute, 'The change of underlying preferences is even more clear when we ask people to choose their main source of news. The UK shows a 20-percentage-point switch in preference from online to TV between the end of January and the start of April.'
The report reveals, 'Industry data also indicate strong traffic increases for online news with the most trusted brands often benefiting disproportionately. The BBC reported its biggest week ever for UK visitors, with more than 70 million unique browsers as the lockdown came into effect.'
Although most surveying was done at the beginning of the year, the Institute carried out additional research in April, to see the impact of the pandemic. It reveals, 'At around the peak of the lockdowns, trust in news organisations around COVID-19 was running at more than twice that for social media, video sites and messaging applications where around four in ten see information as untrustworthy.'
However, the Institute found, subscriptions soared to well-known news organisations, which have gone behind 'paywalls', even before the virus. In the US, during 2019, there was a 4% increase to 20% of people paying for online news, while in Norway there was an 8% rise to 42%. On average, some 26% in Nordic countries now pay for news subscriptions.
In the UK, the biggest subscription brand is The Times, which was first to go behind a paywall, with 39% share of the subscription market. The Telegraph has a 20% share. Meanwhile, in the US, where local papers are important players in the news market, the New York Times has a 39% share of the market and the Washington Post holds 31%, just ahead of local papers on 30%.
But, according to the report, 'A large number of people remain perfectly content with the news they can access for free and we observe a very high proportion of non-subscribers (40% in the US and 50% in the UK) who say that nothing could persuade them to pay.'
Rasmus Nielsen, the report co-editor, says, 'We see clear evidence that distinct, premium news publishers are able to convince a growing number of people to pay for quality news online. But most people are not paying for online news, and given the abundance of freely available alternatives, it is not clear why they would. In such a competitive market, only truly outstanding journalism can convince people to pay.'
Nic Newman, senior research associate, at the Reuters Institute, writes 'Journalism matters and is in demand again. But one problem for publishers is that this extra interest is producing even less income...it is likely we'll see a further drive towards digital subscription and other reader payment models which have shown considerable promise in the last few years.'
Journalism matters and is in demand again
He adds, 'Looking to the future, publishers are increasingly recognising that long-term survival is likely to involve stronger and deeper connection with audiences online.'
A major concern among the Institute's responders was misinformation, but while Facebook was seen as unreliable by a third, accredited journalists are not generally perceived to be the problem. Before the peak of the pandemic, more than half of Reuters' global sample said they were 'concerned about what is true or false on the internet'. Globally, journalists were seen as unreliable by 13%, but at the top of the list were politicians, with 40% believing they provide false or misleading information. And Facebook aroused concern among 29%.
Trust is a major issue. According to the report, 'In our January poll, fewer than four in ten (38%) said they trust 'most news most of the time' – a fall of four percentage points from 2019. Less than half (46%) said they trust the news they use themselves while trust in search (32%) and social media (22%) is even lower.'
Finland is most trusting, with some 56% saying they trust most news most of the time. Ireland registers 48% trust, Germany 45% Australia 38%. But US responders registered news trust levels of less than 30% and the UK, following Brexit and a bruising General Election, registered 28% – with trust levels in France at just 24%. According to the Institute, 'Our survey shows that the majority (60%) still prefer news that has no particular point of view.'
A significant minority (28%) prefer news that shares or reinforces their views
But it found a significant minority (28%) prefer news that shares or reinforces their views, 'Partisan preferences have slightly increased in the United States since we last asked this question in 2013 but even here a silent majority seems to be looking for news that at least tries to be objective.'
In the US, 'Both politics and the media have become increasingly partisan over the years, we do find an increase in the proportion of people who say they prefer news that shares their point of view – up six percentage points since 2013 to 30%. This is driven by people on the far-left and the far-right who have both increased their preference for partial news sources.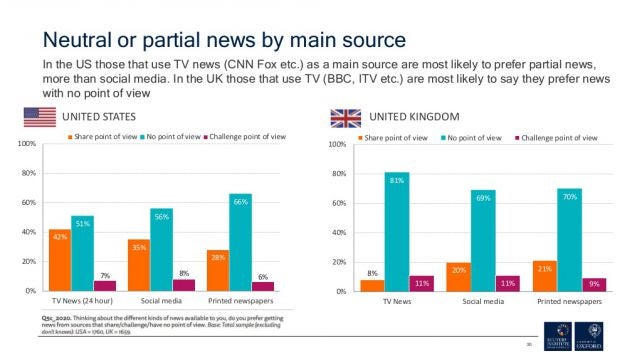 Initially at least, COVID-19 did provide a boost for news but this fell away, once news organisations turned to more critical reporting, 'Subsequent polling...shows that the COVID-19 crisis did temporarily increase trust levels in the news media in the early stages of lockdown...this has fallen almost as quickly as the media has stepped up its criticism of government and official handling of the pandemic.'
The report emphasises, 'While the COVID-19 crisis has reinforced the need for reliable and trusted news, the report argues that the next 12 months are likely to see significant changes in the media environment as severe economic pressures combine with political uncertainty and further consumer shifts to digital, social and mobile environments.'
But it concludes, 'The COVID-19 lockdown has reminded us both of the value of media that bring us together, as well as the power of digital networks that connect us to those we know and love personally....'
The COVID-19 lockdown has reminded us both of the value of media that bring us together, as well as the power of digital networks that connect us to those we know and love personally
However, 'The biggest impact of the virus is likely to be economic...The coronavirus crisis is driving a cyclical downturn in the economy hurting every publisher, especially those based on advertising, and likely to further accelerate existing structural changes to a more digital media environment...Reader payment alternatives such as subscription, membership, and donations will move centre stage, but as our research shows, this is likely to benefit a relatively small number of highly trusted national titles as well as smaller niche and partisan media brands....
'Despite this, there are some signs of hope. The COVID-19 crisis has clearly demonstrated the value of reliable trusted news to the public but also to policymakers...and others who could potentially act to support independent news media. The creativity of journalists has also come to the fore...Fact-checking has become even more central to newsroom operations, boosting digital literacy more widely and helping to counter the many conspiracy theories swirling on social media and elsewhere.'
The figures are from a YouGov online survey conducted at the end of January, early February in 40 countries of 80,155 adults (around 2,000 per country).